1:16 SCALE GENERAL LEE RESTORATION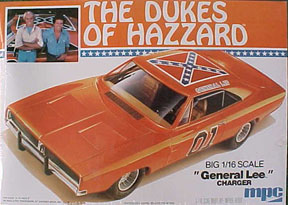 ABOUT THIS PROJECT:
"The Dukes of Hazzard" was my favorite TV show when I was a kid. I began watching the show when I was in first grade. I was about 10 years old when I got the big, 1:16 scale General Lee model. My dad helped me put it together, but we didn't paint any of the parts, since the model came molded in orange, black and chrome.
The model sat on an open shelf for a few years, and the original decals became curled and brittle. Sometime in the late '80s, I decided to make the model into a plain Dodge Charger, and I painted it metallic blue with white-letter tires. More than a decade passed, and the ex-General simply sat around and collected more dust, looking old and tired.
It seems that of all the General Lee collectibles, the big 1:16 scale models are hardest to find (not to mention highly sought-after), selling for over $60 in some eBay auctions!
In early 2001, I noticed some replica decals for sale on eBay for the 1:16 scale model, which gave me the idea to fully restore my original General Lee model. I wasn't sure that it would turn out, since there were several coats of blue paint and primer, but I figured I had nothing to lose. Somewhere along the way, it had lost the front push bar, but otherwise the model was still complete, so I began the project. I was very impressed (and surprised) at how well it turned out.

Enjoy the next pages, as they take you through the restoration process.